EXO Unveils the Power of Music
Let me tell you something: whenever EXO is involved in something, you can rest assured that I will most certainly be excited for it. They're just that group for me—the one I'm stupidly obsessed about, ridiculously biased towards, and constantly amazed at. Even I can recognize that my overall opinions on their work, in general, are tainted with a lot of unwarranted admiration. I love them a lot, alright?
Therefore, I don't think I'm overzealous when I say the repackage of The War, their fourth studio album, was completely extraordinary. Right?
Okay, so maybe I am getting ahead of myself—but honestly, this album was amongst the most entertaining ones I've come across, and I don't think I'm the only one with that opinion. Titled The Power of Music, this repackage brings forth three new songs for fans to enjoy, with a graphic novel style, superhero-tinged concept that has fans desperately excited.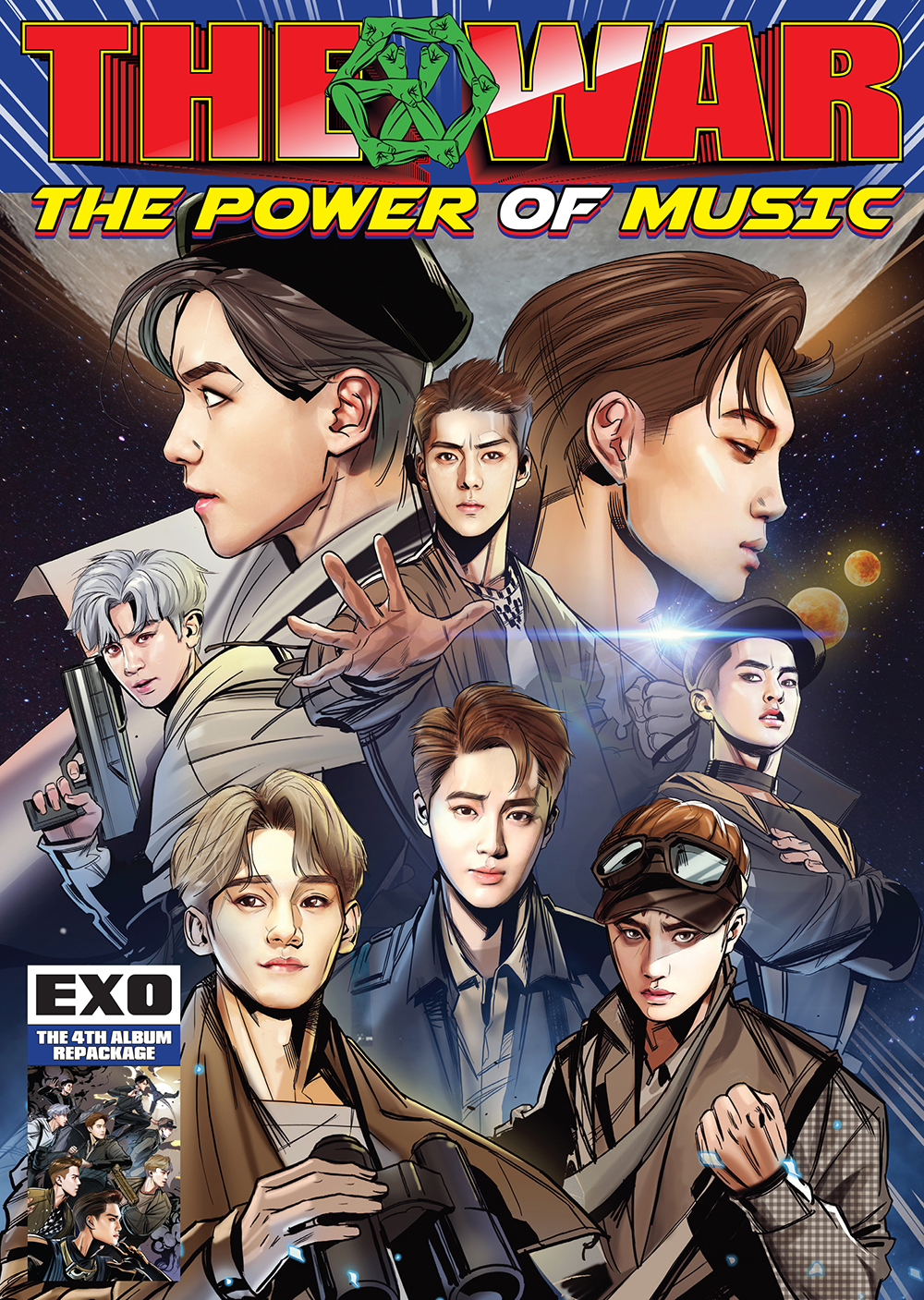 After releasing three teasers (one, two, and three), EXO debuted their music video for title track "Power" on September 5, accompanied by a repackage album that includes 16 character cards, 4 double cards, 1 group card, 1 random photocard, and 1 random page of a 10-page graphic novel comic. Talk about a gift package! Together, all of these elements serve to build the complex story surrounding The Power of Music—some of which is revealed in the graphic novel, while another part is told through the music video of the title track.
"Power" lives up to its name—it's powerful and energetic, maintaining an eclectic, hyped up, EDM beat and fitting perfectly with the concept of the repackage. It's kind of all over the place, and it's a bit of a challenge to keep up with, at times, but it's so good you can't get enough of it. The intro, especially, left me stunned; there's something about Chanyeol's and Kyungsoo's (D.O.) voices together that is just… addictive. The music that supports it all is so complex, made up of a thousand and one tracks and elements (like the groovy guitars in the verses or the punched silences in the rap parts), typical of LDN Noise's beautifully crafted work—but, in the end, "Power" remains a predominantly pop song, though that's far from a bad thing. It's not outstanding, but it's very catchy, the rap parts are highly rhythmic, and it makes for a perfect party song with its dynamic chorus and powerful breakdown.
If you want to enjoy the song, though, listen to it first before watching the music video. You see, the MV will distract you. It's hard to pay attention to the song when seven men are running around shooting up stuff with nerf guns in a seemingly green screen generated décor. Especially since Baekhyun is missing, only to be found at the end playing with a (symbolic?) kitten, before giving everyone their powers back and later on falling into the ocean. I'm still trying to piece it all together, and I'm not so sure I'm right anymore, so here's the music video. Watch it for yourself. I'll carry on with my music-enthused reviewing ways from this point onwards.
While "Power" is fast-paced and dance-oriented, "Sweet Lies" is the exact opposite—and it's a blessing. The War was already filled with enough upbeat songs, and while I enjoyed them all, I did find that ballads were missing. Even though "Sweet Lies" isn't a ballad per se, its slow contemporary urban sound is simply perfect and brings out EXO's strength: R&B. The track, composed by the same team of producers behind the song "Twenty Four," takes a lot from hip-hop in many ways, just as "Twenty Four" did. The backing track is kept to a minimum, though complex, letting the real highlight of the song be the vocals of each and every single member—and that's what makes this song a gem. To me, Kyungsoo and Baekhyun obviously stand out the most as vocalists, but Suho and Kai's joint verse was quite an agreeable surprise (Suho's falsettos, especially, were a nice touch). And the rap! The rap verses, man! All three rappers absolutely own their verses, but you want to know what's my absolute favourite part? The four lines where Xiumin and Chanyeol harmonize together, Chanyeol with his lower spoken tone and Xiumin with his naturally higher pitch. It gives me chills every single time, and believe me, I've listened to "Sweet Lies" many, many times already. But seriously, this song is just… so good, but mostly so refreshing, coming from EXO. I've been waiting for them to do a track like this—pure R&B, at its best—for so long now, and I'm beyond glad they've finally done it with this song.
Finally, "Boomerang" closes this short tracklist, with what usually becomes my favourite song on any release, ever: the funky, old-school, synth-heavy, 80s-inspired track. I knew it was going to be my favorite ever since we heard it in one of the teasers. And it is! Sure, it doesn't make you want to get up and dance like "What U Do?" did, but you'll find yourself swaying and nodding along to the beat, feeling like you're starring in your own Daft Punk music video (but with improved music). The vocals are impeccable, the harmonies are no joke (though it doesn't compare to the ones in "Sweet Lies," but still), and the chords on the synths are omnipresent. To top it all off, the beat also makes for a perfect song to walk down the street to. Trust me, I've done it. It's honestly amazing. "Boomerang," as a whole, is amazing, and it should be enough of a reason for you to listen to it. Just once is enough; you'll find yourself drawn back to it, like a… boomerang. Ha.
Once again, this is EXO; I know I tend to shower them with praises, blinded by just how much I love everything they do. So if you're curious, then by all means, listen to the songs. I think I'm confident enough to certify that you'll at least like one of the three. I promise.